Image of the Day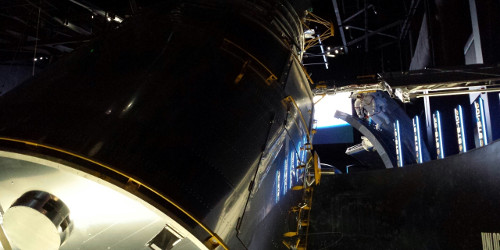 Details

Written by

Vaughn Treude

Category: Publications
Hits: 2111
Liberty's last hope is an unlikely alliance of hackers and fugitives.
Centrifugal Force is a political science fiction adventure which takes place in America in the near future. It takes a look at what might happen if current trends continue, with the US government becoming steadily more oppressive, and the economy steadily worse.
Tax accountant Joel Walter is an ordinary man in big trouble. The authorities are after him for a crime he knows nothing about, and mobsters want to kill him for supposedly betraying them to the law. He turns to his friend Nephi Snow, hacker extraordinaire, to get a new identity and go into hiding. Meanwhile, the steadily deteriorating political situation forces Joel to make a difficult choice. Can he remain uninvolved while his friends risk their lives in the underground, or must he join them in their fight for liberty?
Available now on Amazon.
Details

Written by

Vaughn Treude

Category: Publications
Hits: 2120
A stolen invention threatens his dreams.

Fidelio's Automata is an alternative history in the "steampunk" genre, set in America in the early 1900's. Historical figures such as Thomas Edison, Nikola Tesla, and labor leader Big Bill Haywood play a part.
Fidelio Espinoza, a brilliant and idealistic young Cuban, arrives in 1900's America with the goal of perfecting his automaton, a machine that will free humans from the dangerous, backbreaking work of mines and factories. Here he meets Hank, a cowboy turned Quaker who has vowed to atone for his sinful past. After a prototype of Fidelio's creation falls into the wrong hands, the two men join forces with Nikola Tesla to prevent this creation from being used in the service of oppression.
Available now on Amazon.
Details

Written by

Vaughn Treude

Category: Publications
Hits: 2237
It's cute, fluffy, and adorable – but what the heck is it? A science fiction short story in the Twilight Zone tradition by Vaughn Treude.

Harry Johnson, a real estate salesman down on his luck, encounters and adopts a mysterious stray. Though he's never been an animal lover, he feels an instant connection with the fluffy little creature. The question is, what is it – a dog, a cat or something else? One thing's for certain: the animal exerts a strange effect on the people around it. Harry finds he can use the creature's powers to his advantage, but soon realizes that they come at a price.

Available now on Amazon.


Details

Written by

Vaughn Treude

Category: Publications
Hits: 3674
Like son, like father?
An urban fantasy novella set in the world of grunge rock. Recommended for mature audiences.
Oberon Canady, 25, is the front man for an up-and-coming garage band in 1990's Portland. His life is a non-stop party, but it's missing something – he's never known his father, and his mother has no idea who it was. Troubled by nightmares and strange visions, Oberon sets out to explore his mother's free-loving hippie past to answer the question, where is my father? And why the hell am I so different?
Coming soon from Nakota Publishing.
You are here:  

Publications